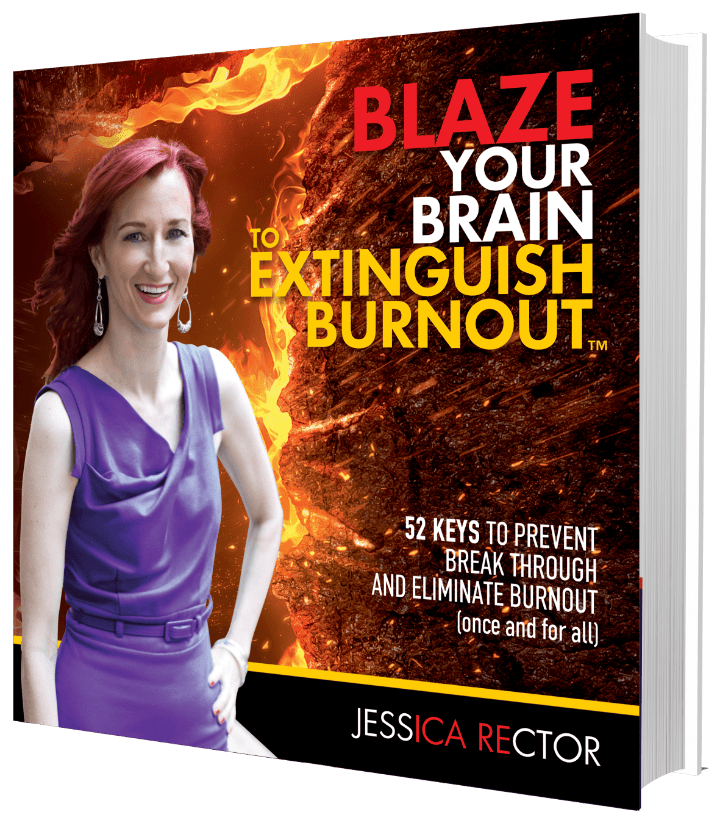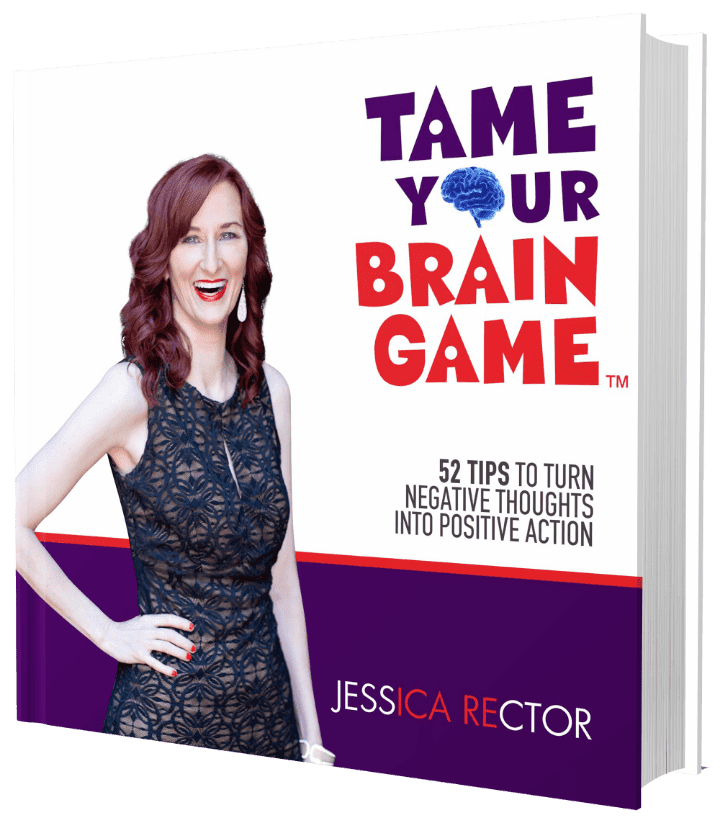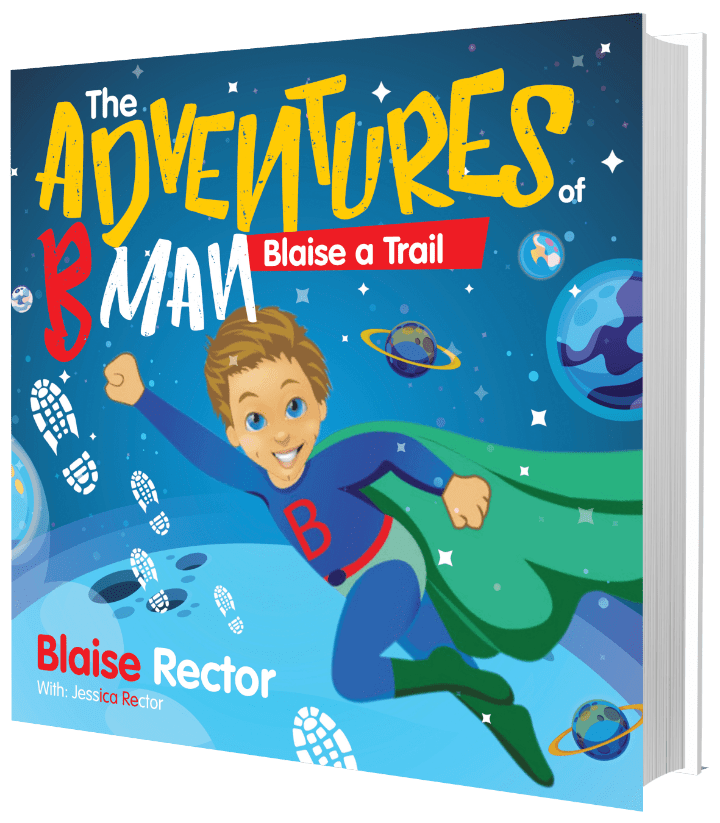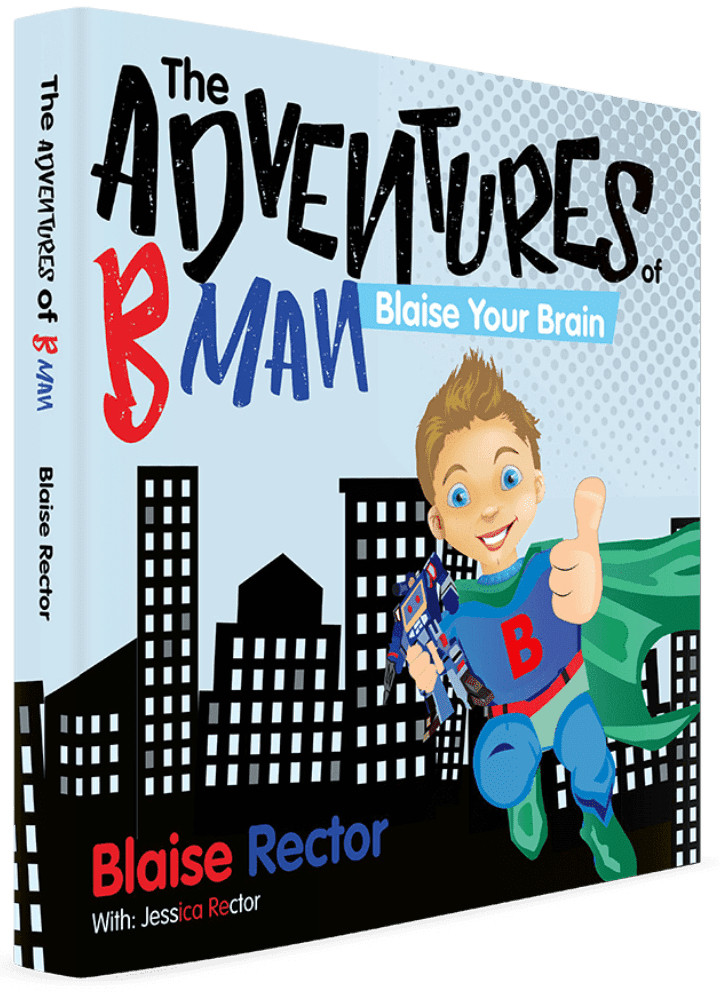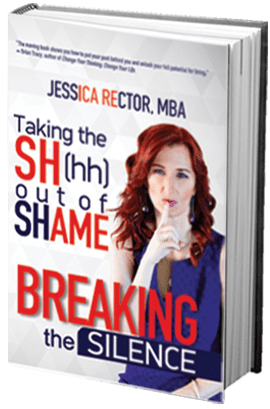 #1 Best-Selling Author, Jessica Rector, offers the most requested package which gives you nine books (one of every book below) and a set of Tame Your Brain Game Kudos cards (25 cards in the set). As an added bonus, Jessica autographs every book you order.
This package is great if you want to:
Take one small step today to create massive change in your life. Order this Platinum Package Today!
Jessica's newest book is a hot topic!
Burnout is like a wildfire…spreading quickly and impacting everything in its path. In today's society, it's an epidemic. The World Health Organization recently announced it as a medical diagnosis, and it's impacting your life. Even if you're not in it, the chances are high that someone you interact with is, which directly impacts your life too.
Burnout is at an all time high, yet most don't even know how to identify it. Jessica's research shows that 79% of the workforce is in burnout, and almost half are in extreme burnout.
How is burnout impacting your life and work? In Jessica's newest book, discover your specific contributing factors to burnout, what areas of your life burnout effects, and specific tools and strategies to prevent future burnout and extinguish current burnout.
This is the perfect book for leaders, teams, and individuals, whether you're in burnout or trying to prevent it.
Join the movement to create change with one small step at a time, when you get this book.
Extinguish Burnout When You Order Your Copy Today!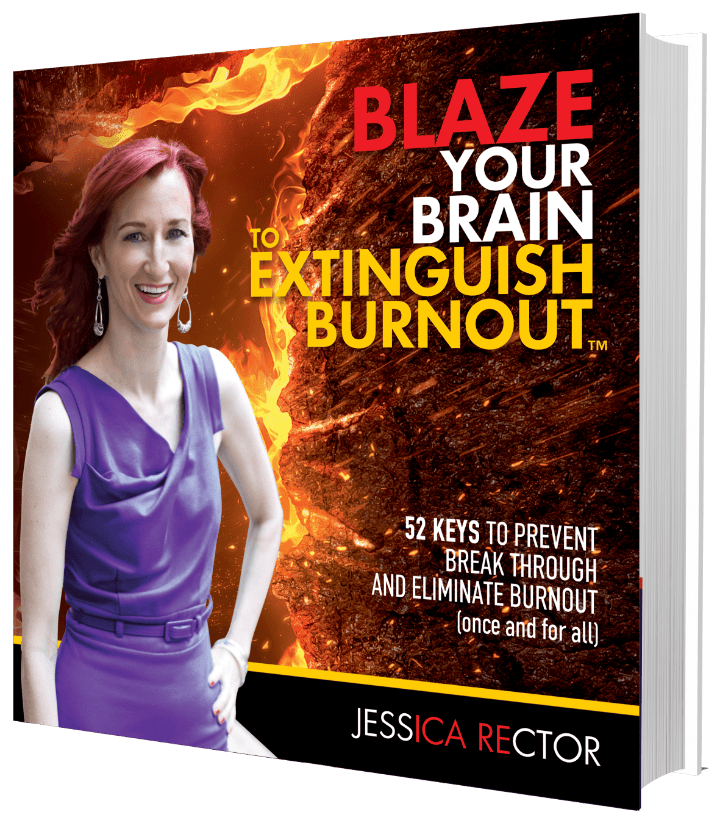 Blaze Your Brain to Extinguish Burnout: 52 Keys to Prevent, Break Through and Eliminate Burnout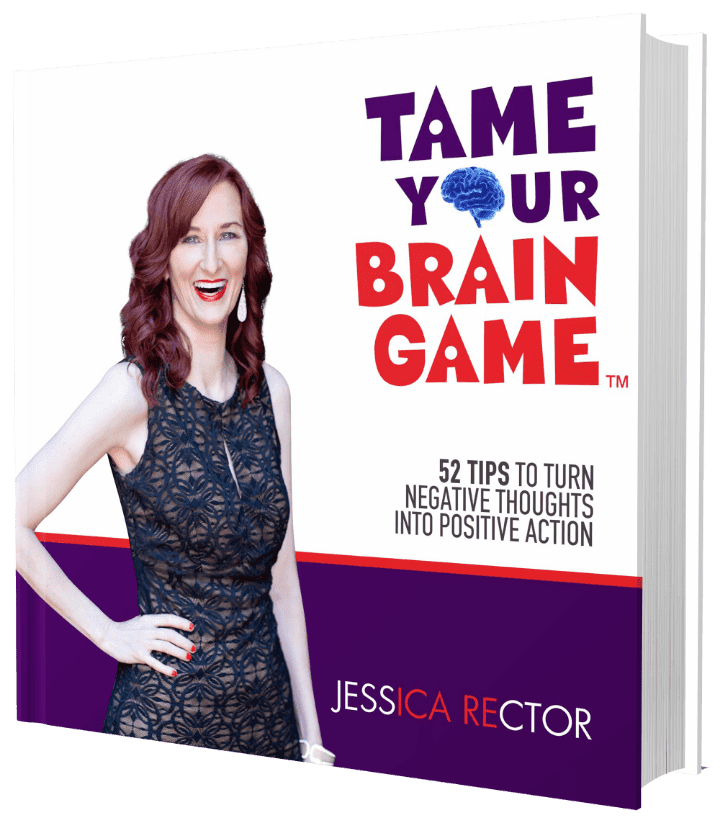 Tame Your Brain Game: 52 Tips to Turn Negative Thoughts into Positive Action
Thought Leader, Jessica Rector, does it again. This #1 best-selling book disrupts your norm and gently pushes you to greatness.
Have you ever thought nothing has really changed in the last six months, year, or three years even though you want things to change? Your thoughts dictate your behavior which dictates your actions. You can't keep thinking the same way you've always thought if you want something to change. If you're ready to reach your goals, become a better leader, or make more money, this book is a must read. This book helps you become aware of what's holding you back and and gives you the proven steps and strategies to change your life.
This book is often bought in bulk quantities and given to team members, leaders, or staff. Then you work through one tip a week together and share challenges, lessons, and successes.
Join the movement to create change with one small step at a time, when you get this book.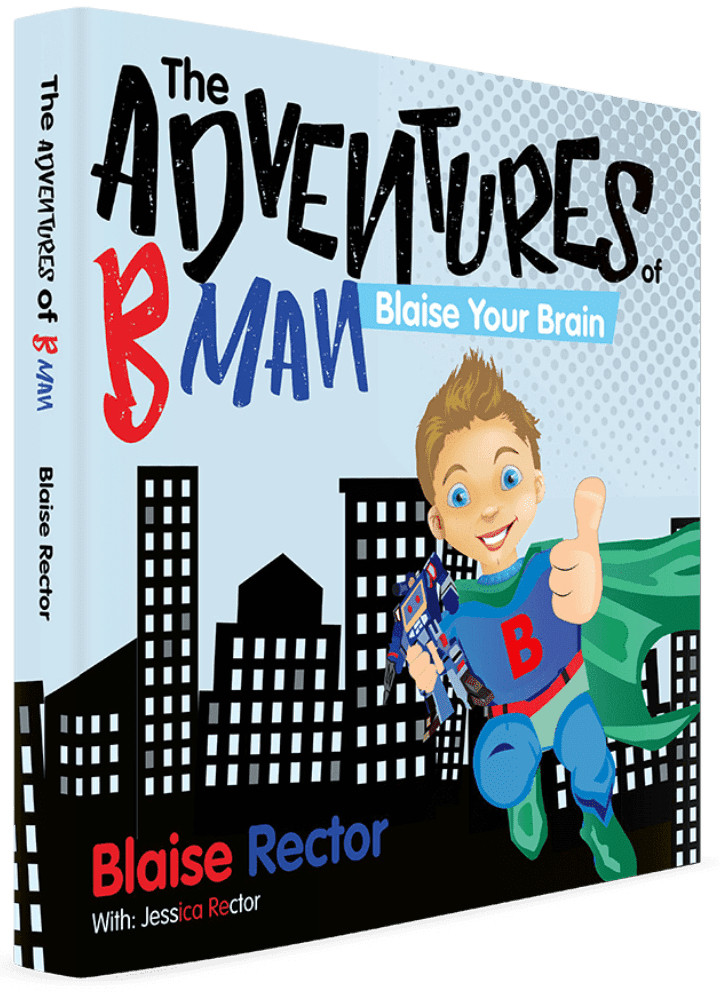 The Adventures of B Man: Blaise Your Brain
As the youngest author in the United States, Jessica's son, Blaise Rector, just released his first book at five-years-old. This book quickly became a #1 best-selling book. B-Man, as he's known by others, shares his adventures, stories, and tips as he lives life according to a pre-schooler. His goal is to motivate, empower, and inspire you to reach your potential, dreams, and goals. Many readers have found this book is great for kids and adults alike, as the lessons shared can be learned by all.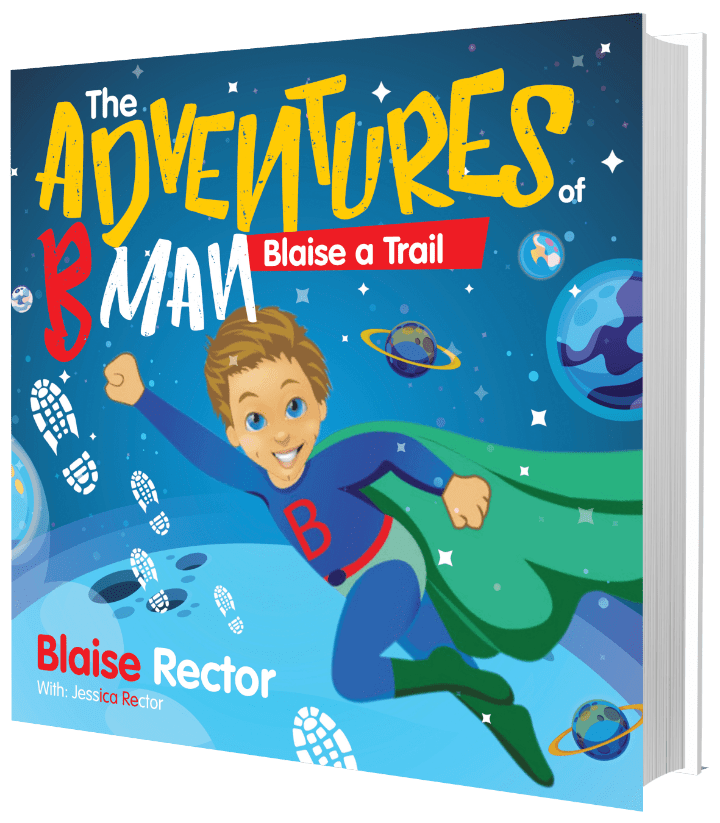 The Adventures of B Man: Blaise a Trail
The Adventures of B Man: Blaise a Trail follows the youngest published author in the United States on his journey as a six-year-old. Blaise, or as he is known as B Man, empowers you to step outside your comfort zone, look at things from a different perspective, and invite a lot more fun (and laughs) into your life. Join B Man as he ventures into new territory, makes new friends, and enjoys life just a little bit more and encourages others to do the same. Many readers have found this book is great for kids and adults alike, as the lessons shared can be learned by all.
Jessica's highly anticipated book helps you break the silence on what's been holding you back in work, relationships, and life. Shame is completely universal, everyone has it, yet no one wants to talk about it. It's the biggest thing that holds you back and yet you're unaware of its existence. Shame started when you were a child and now manifests in every aspect of your life without your realizing it, yet you've been taught not to mention it. What would happen if you took the lid off of it? No longer allowing it to have a hold on you? Jessica explores how shame is manifesting throughout your life, experiences, and communication with real world examples. She dig deeps and shares her step-by-step process to recognize, walk through, and release the shame in your life, so you can finally be free of the shame that binds you. In doing so, this leads to improved performance, more confidence, increased influence, deeper connections, and stronger relationships.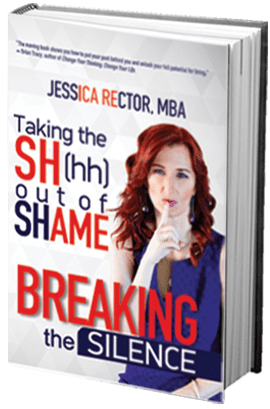 Breaking the Silence: Taking the Sh Out of Shame Book
Get More Freedom When You Order Your Copy Today!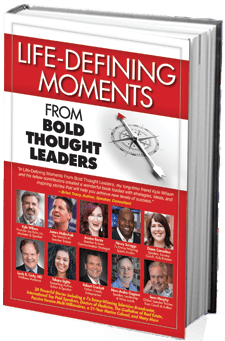 Life-Defining Moments From Bold Thought Leaders
Inspire, Motivate, and Empower Yourself When You Order Your Copy Today!
Proven to be one of the boldest Thought Leaders of our time, Jessica Rector shares her vulnerable story in this #1 best-selling book. She guides you through her challenges, pain, and struggle and gives you her strategies for what worked in getting her through the hardest times of her life.
With a mission to transform the lives of others, Jessica gives you the tools and know-how for what catapulted and changed her own life and business, knowing that by having these techniques, you too can create massive change in your life.
One thing, one situation, one relationship, one experience can leave you in the depths of despair if you let it. Or you can use that same instance to transform your life. Which will you chose?
Jessica shows you how to turn the hardest, most painful times into something good, positive, and impactful. Her story will inspire, motivate, and empower you. By using what she demonstrates works, you can make massive change in your life.
Uncover who you are, confront your fears, and find your passion. Stop feeling lost, confused, or stuck. Now is the time to invest in yourself. Don't know where to being? This book is a complete guide to help you become who you are meant to be so that you can reach your potential and live the life you desire.
You will discover how easy it is to: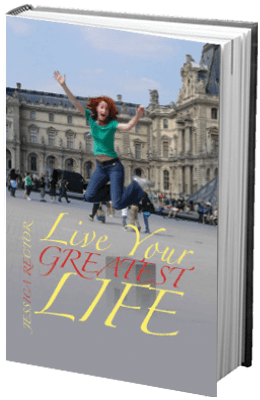 Live Your Greatest Life Book $19.97
Start Living Your Greatest Life!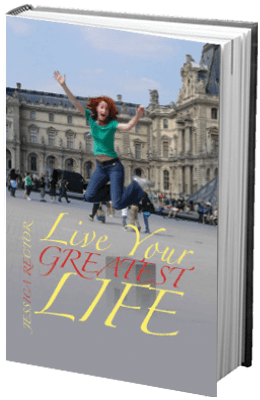 Live Your Greatest Life Journal
Begin Journaling Your Greatest Life!
Writing things down has been shown to be good therapy. It's one of the best ways to progress faster and more effectively. This Journal takes you on a journey to ask yourself the questions you've never asked yourself, to ponder things you've left behind, and to reignite the passion within you to create a life you love.
With this journal, you will: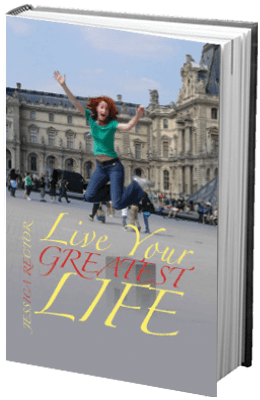 Want both Live Your Greatest Life Book? Combo
You'll receive insights, best practices, and proven methods to transform your life. You'll also have real steps to put into action right away…no more spinning your wheels on stuff that doesn't work.
The fastest way to make massive improvements and forward progress is to read the book and be able to journal alongside of the readings. This will also allow you to dig much deeper and resolve those lingering questions you've been asking yourself. You'll be able to take notes, answer the hard questions, and change the trajectory of your life. What's better than that? You'll also receive a bundled rate discount for purchasing both.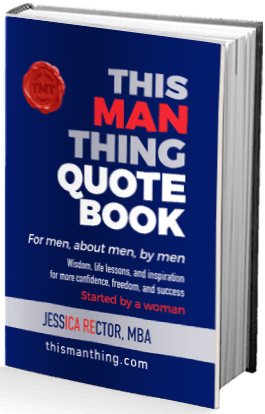 This Man Thing Quote Book
"What I like is the respect. Other guys should be a part of This Man Thing if they want to better themselves and grow instead of getting complacent." -Kevin Beck
This quote book is by, for, and about men. This Man Thing Facebook group has hundreds of men wanting to help other men through challenges, issues, and struggles, because they know what it's like to need a safe place to just be yourself. These men from around the world combined forces to share their wisdom, advice, and life lessons to help other men be better versions of themselves.This mini quote book will inspire, motivate, and help men with more confidence, freedom, and success. Get a copy for your son, husband, friend, or yourself. Perfect for your pocket, on your desk, or as a gift.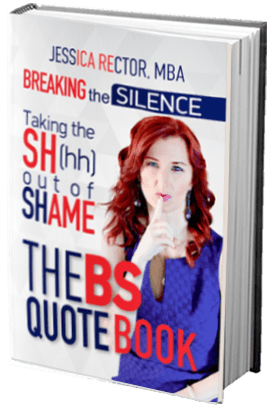 The BS Quote Book shares some of the BS you tell yourself that holds you back in life. This mini book gives you the best of the best advice, tools, and techniques for breaking through what binds you so you can have more freedom, confidence, and success in work and life. These powerful quotes were taken from the #1 best-selling book, Breaking the Silence: Taking the SH(hh) Out of SHAME. They are sure to inspire, motivate, and empower you to get our of your own way, stand in your power, and make forward progress at a rapid pace.
Perfect for your pocket, purse or desk. Great for a gift or keep it for yourself!
Check Jessica's Availability
Get the most value and greatest return on your investment when you book Jessica Rector. Contact her at (817) 523-1529 for the motivational keynote presentation at your next event.